Kevin Mastin
Stray Horse Arts, Inc.
1537 Soda Springs Road
Leadville, Colorado 80461
719-486-6226
Work Experience:
I've been a Commercial Artist for 30 years.
I've been blessed to turn my avocation into my vocation.
• Owner, The Mastin Group, Commercial Art & Design since 1997
• Owner, Stray Horse Arts, Inc, ski trail map art and printing since 2006
• Owner, partner of Summit Signworks of Breckenridge 2000-05
• Art Director, Vail Resorts' Internal Art Department 1992-97
• Honors Graduate, Colorado Institute of Art in Denver 1988, Top Ten in Class
• First Art Job! Architectural storefront redesign on Leadville's historic Harrison Avenue, 1982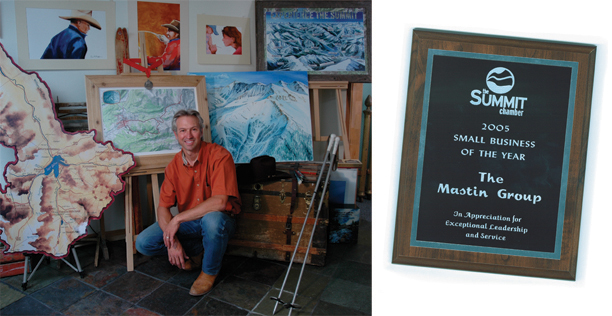 Community Experience:
I feel strongly that in order to be a true member of a community,
one must get actively involved and dedicate himself to a passion.
• Leadville Lake County Chamber of Commerce:  Vice Chairman, Board of Directors 2014 – present
• Summit County Chamber of Commerce:  Board of Directors 1998 – 2010, President 2007
• Summit County Elks Lodge:  Board of Directors 2001 – 2011, President 2005, 2013
• Summit High:  Cross Country and Track & Field Coach 2003 – current
• Leadership Summit:  Graduate 2009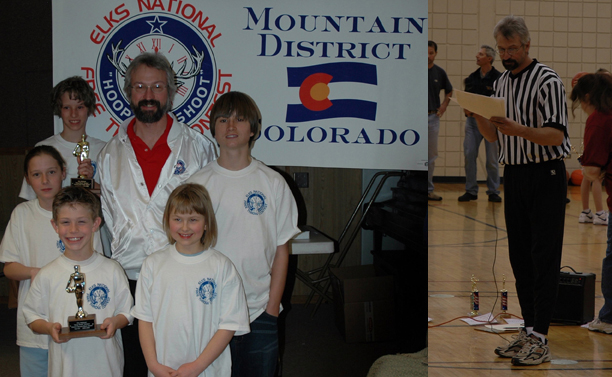 I have long been a supporter of our local non-profit organizations.
I admire and support the dedicated work they do to better our community.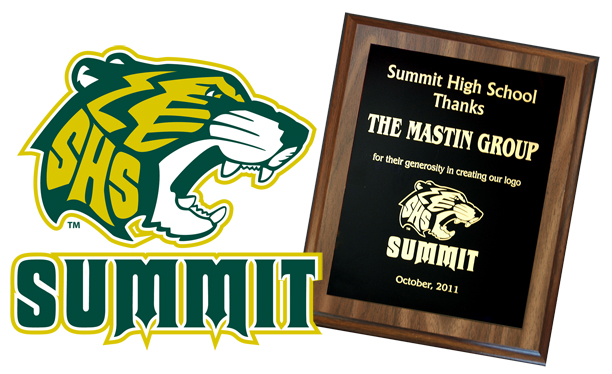 Volunteering and Design Contributions:
• Summit High School
• Continental Divide Land Trust
• Summit Prevention Alliance
• High Country Conservation Center
• Breckenridge Outdoor Education Center
• Summit Association of Realtors
• Friends of the Dillon Ranger District
• Friends of the Eagles Nest Wilderness
• Family & Intercultural Resource Center
• Give One Percent
• Summit Recycling Project
• Shaping our Summit
I donated the logo design for these organizations: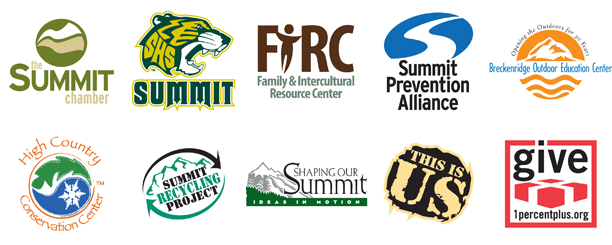 Memberships and Affiliations:
• Summit County Chamber of Commerce—Lifetime Member & Ben Fogle Award Winner
• Summit County Elks Lodge—Life Member
• Leadville Chamber of Commerce
• Friends of the Lower Blue
• Colorado Historical Society
• National Rifle Association
• H.O.G. Harley-Davidson Owners' Group
• Blue Valley Sportsman Club
And a little personal history:
I'm a fifth generation Leadvillite. I attended the same schools as my grandparents, and graduated from Lake County High School. I was reluctant to leave Leadville, but the closing of the Climax Molybdenum Mine had a devastating effect on the town and I was part of the exodus to find work.
I first moved to Summit County in 1983 and enjoyed being Caretaker at the Keystone Ranch until 1985. I met Amy while I was in college in Denver. She got the opportunity to coach rowing for her alma mater, Brown University and headed east. We married in 1988 and lived in Boston for fours years while Amy continued coaching for Northeastern University. When we decided to raise a family, we returned to Colorado in 1992. We have two daughters:  Helen and Diane. Amy, a Littleton native, is a Closer at Land Title in Dillon.

©2015 Stray Horse Arts, Inc. Leadville, Colorado.
dba The Mastin Group and dba Stray Horse, Lake County, Colorado.
30 years' experience of Graphic Design in Summit and Lake County, Colorado. Printing, Ski Trail Map Design,
Custom Maps, Logo Design, Commercial Art, Painting, lllustration, Western Art and Fine Art.
Kevin M. Mastin, Ski Trail Map Artist, Illustrator and Graphic Designer.